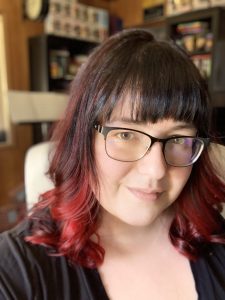 Becoming a literary agent was fitting for the girl who, as a small child, begged her dad to buy her a book simply because "it has a hard cover." Growing up, she had a hard time finding YA books outside of Christopher Pike and R. L. Stine, and instead tackled Tom Clancy or her mom's romance novels. Though her career path zigzagged a bit—she attended college as a violin performance and music history double major, earned a JD from Pace Law School, then worked various jobs throughout the publishing industry—Moe was thrilled to join the BookEnds team in May of 2015 as a literary agent.
A Pennsylvania native, she is mum of a rambunctious corgi who is a master at stealing treats and running agility courses. When not reading, Moe can most often be found in a pit orchestra, playing violin for her favorite musicals (careful, don't ask her to pick her favorite show or you'll get a 90 minute dissertation on Stephen Sondheim and/or general Broadway trivia). She is also an avid gamer and always awaiting the next Assassin's Creed or Destiny release.
You can follow Moe on Twitter at @inthesestones. (and if you want cute pictures of corgis, follow her on Instagram at @inthesestones.